Reading Last Verses in Revelation in Brady, TexasMany years ago my father suggested that the New Testament could be read during a weekend. My first participation in a Bible Reading Marathon was in the First Baptist Church in Brady, Texas when the youth group and adults read the whole New Testament in August 1971. See "Son Have a Bible Reading Marathon"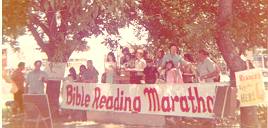 In the early fall while sitting at the Joiner's Restaurant in Mayfield, Kentucky several students and one faculty member from the Mid-Continent Bible College decided to try to have a Bible Reading Marathon (BRM) on the Court Square in Mayfield, Kentucky. After some planning and preparation, we began reading the New Testament on the Courthouse steps on a Friday night after the high school football game. During this first reading in public for us, several hundred individuals participated in the reading or listened.
During the next year or so, we participated in BRMs in Illinois, Tennessee, Kentucky, and Texas. The entire Bible was read on the Brady, Texas Court Square in summer of 1972.
I would like to share some of my memories and thoughts about the Bible Reading Marathons in which I was privileged to participate.
Who reads

We encouraged everyone to participate in the reading. If my recollection is correct, reader ranged in age from a 5 or 6 year old girl in Tennessee to a 91 year old lady in Brady.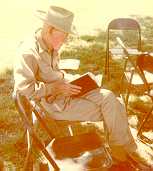 Reading Format

Reading is verbal, out-loud.

We read from Matthew 1:1 through the last verse in Revelation. Generally, everyone who was present at the end of the BRM read the last chapter together in unison.

No one person read on and on. ONE PRIMARY GOAL was to have as many different people read as possible. When there were a large number of people wanting to read, the reader may read only a few verses. However, during the early morning hours when there were few people around, the reader might several chapters.

BRM was never a contest to see how fast or how long one person could read.

There was no preaching or comments on passages. We insisted that everyone just read. In order to receive permission to read on courthouse squares, we guaranteed the appropriate authorities that there would be only reading.

How long did it take to read

New Testament 20-23 hours
Whole Bible about 72 hours

Where we read

County Courthouse steps
Bank parking lots
College BSU
In Churches
Shopping Mall

Many churches and individuals met the wide variety of needs we encountered in the various BRMs.

Generally, we felt that our purpose was to support individuals and/or churches that were interested in having a public reading of God's Word.

No money was raised at the readings.

People sat around and listened
New Testaments were distributed
Witnessing
Visiting
Eating (at some reading the churches provided food)

Some sleeping in the early morning hours

At each reading the reader signed the "sign-up Bible" next to the passage(s) they read. We sometimes presented this Bible to the county judge or the church where the reading took place. Registering the readers helped to keep the reading moving.

Love the word of God.
Want others to know about The Truth.
Plan it for your situation.
Read
More Details

Several times during the intervening years, I have been a part of reading in church where we read specific books of the Bible i.e. Romans, Psalms, and John.
BRM was special in my life and the life of many others. My love for the Word of God and understanding of The Truth was affected immeasurably listening to the Word of God read over 12 times in a public setting